Press release
New research finds inferior wound dressings may contribute to NHS inefficiencies and reduced patient quality of life
Wound dressing changes take place on average every three days or more frequently, partly due to low quality dressings on formularies across the country[1]
Healthcare professionals (HCPs) stated that the quality of a dressing impacts the frequency of dressing changes. HCPs consider that dressings that can stay in place and handle exudate are key features which enable them to leave up to seven days between dressing changes
Experts also believe that superior quality dressings could also contribute to improvements in patients' quality of life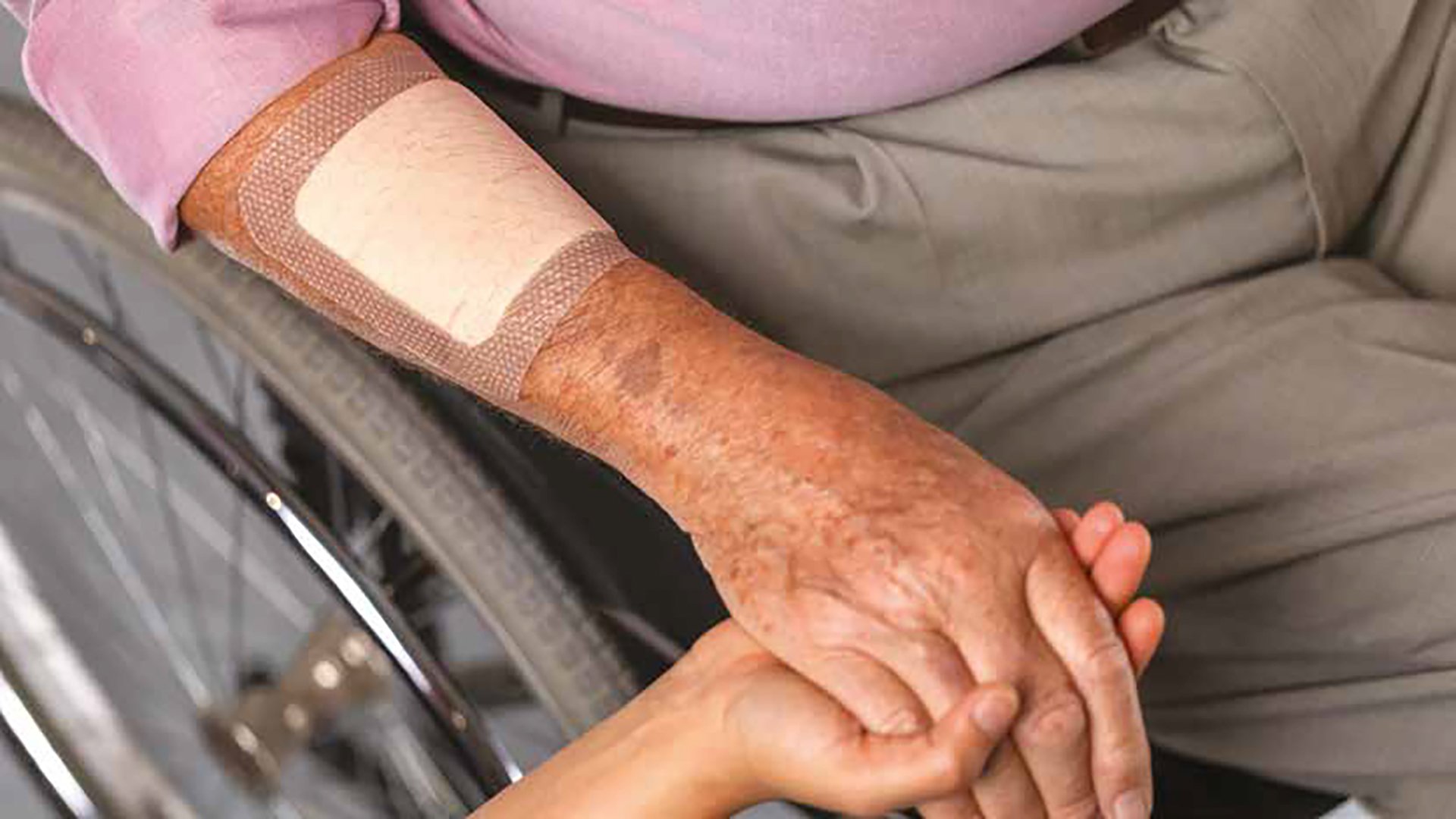 4 December 2019, Milton Keynes, UK. - Wound dressings in the UK are changed on average every three days, according to a new survey,1 conducted by the Journal of Community Nursing on behalf of Mölnlycke, of over 300 HCPs – including tissue viability nurses, district nurses, podiatrists and care home nurses.
Studies demonstrate that keeping wounds covered with a dressing for longer may be beneficial to promote optimal wound healing.2,3,4 Dressings that help to create an appropriate moist environment while absorbing excess exudate for more than three days can promote undisturbed and faster healing.2 However, many of the survey respondents felt challenged by lower quality dressings on their formularies.
Nearly 90% of HCPs mentioned that high levels of exudate and wounds not healing well are key causes of dressing changes every three days. A third (32%) highlighted that frequent changes are due to ineffective dressings on their formulary. One in five (18%) of HCPs from across the country recognise that their formulary's dressings do not effectively handle exudate capacity and 14% say that the dressings on their formulary fall off too easily.
The survey also found that nine out of ten HCPs consider patient compliance as a big issue for frequent dressing changes with nearly 50% reporting that their patient removes the dressing before it needs changing and 36% reporting that their patient complains the dressing is not comfortable.
Approximately two thirds (62%) of HCPs consider that encouragement of undisturbed wound healing is a strong reason for leaving up to seven days between dressing changes. The survey highlighted the importance of using superior quality dressings, with 65% of HCPs feeling confident of leaving a dressing untouched if it can stay in place for up to seven days and the majority (62%) noted high exudate handling capacity as the key feature to ensure they can leave seven days between changes.
According to Luxmi Dhoonmoon, Tissue Viability Nurse Consultant at Central and North West London NHS Foundation Trust, "There is pressure to use lower quality, cheaper dressings in the UK – but this ignores the bigger picture, for example a district nurse can cost up to £100 per visit and so the NHS ends up paying more in nursing time. When there is investment in superior products, a wound can heal in months rather than years, aside from saving money this also has a positive impact on a patient's quality of life."
What dressings can be worn for up to seven days?
In the survey, the vast majority (90%) of the HCPs who have used Mepilex® Border Comfort dressings (Mölnlycke) trust patients can securely wear Mepilex® Border Comfort for between three to seven days with over 70% saying that they have noticed enhanced comfort and less pain for patients and one in two (47.5%) reported improved patient quality of life. Nearly half (47.5%) of HCPs trust Mepilex® Border Comfort facilitates quicker healing time due to effective exudate management.
"Our Mepilex® Border Comfort dressings have been designed specifically with our patients and healthcare professionals in mind to promote undisturbed wound healing" said Nina Burdiak, Product Manager – Advanced Wound Care at Mölnlycke. "Mepilex Border Comfort's Flex technology provides excellent flexibility and conformability to help avoid early detachment of the dressing and to move with the patient, whilst its Exudate Progress Monitor helps to track and objectively record exudate levels, helping to avoid unnecessary dressing changes."
Mepilex® Border Comfort can be used to treat a wide range of exuding chronic and acute wounds including diabetic foot ulcers, venous leg ulcers, pressure ulcers, skin tears and traumatic wounds. The dressings are available in five sizes in both square and rectangular shapes. For more information visit: https://www.molnlycke.co.uk/products-solutions/mepilex-border-comfort/
-ENDS-
For further information or to arrange photography/further interviews please contact:
Angela Gonzalez, Mölnlycke Press Office
MepilexBC@fourhealthcommunications.com
TEL: +44 20 3907 8984
References:
1. Journal of Community Nursing "Survey to uncover wound care dressing behaviours and preferences" conducted August-September 2019
2. Understanding undisturbed wound healing in clinical practice – a global survey of healthcare professionals. Wounds UK 2019; 15(4):56-65
3. Rippon M, Davies P, White R Taking the trauma out of wound care: the importance of undisturbed healing. J Wound Care 2012; 21(8):359–68
4. Sharman D, Moist wound healing: a review of evidence, application and outcome. Diabetic Foot Journal 2003; 6(3):112–6