Multipurpose all-in-one foam dressing
Mepilex Border Comfort
All-in-one dressing that is designed to stay on and uniquely conform
-/-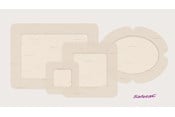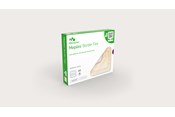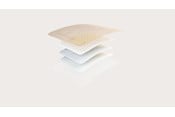 Our next generation of flexible dressings are designed to stay on and uniquely conform; giving time back to nurses, cost savings back to managers and quality of life back to patients .
Designed to conform and stay on
Our proprietary Flex Technology creates great conformability, and a dressing that is more flexible than compared bordered foam dressings . A dressing that moves with the patient and stays on even in the shower . Gives more time back to nurses to focus on care, not unscheduled dressing changes.
Smart exudate management
The five-layer dressing absorbs, channels and traps exudate and allows you to track exudate progress. Keeping exudate away from the wound bed, and preventing re-entry, even under compression . It has better exudate handling capacity than compared bordered foam dressings and can handle both normal and viscous exudate .
Reduced pain and trauma
Our proven Safetac® technology means less pain and trauma during dressing changes, and reduced risk of maceration than traditional (adhesive) dressings .
Areas of use
You can use Mepilex® Border Comfort to treat a wide range of exuding chronic and acute wounds such as diabetic foot ulcers, venous leg ulcers, pressure ulcers*, skin tears and traumatic wounds.
Being available in square, oval and rectangular shapes, it can be used on a wide range of wounds and considered as your 'go to' all-in-one dressing.
Easy application
Our proprietary three-part release liner makes it easy to apply Mepilex Border Comfort** . So you can place your dressings accurately and securely – avoiding wrinkles, rolled edges and re-applications. Which could save time and reduce waste, too.
Flex Technology provides excellent flexibility and conformability to avoid early detachment

Proven to handle more exudate*** than other all-in-one foam dressings

The Exudate Progress Monitor allows the spread of exudate to be objectively assessed and recorded, without disturbing the wound

For use on a wide range of exuding chronic and acute wounds
*Where a repositioning or offloading protocol is used
**Available in 15 x 15cm and 15 x 20cm
***In vitro studies
hidden1
hidden2
Further product information
When to use Mepilex Border Comfort
You can use Mepilex Border Comfort for a wide range of exuding wounds such as pressure ulcers, leg and foot ulcers, and traumatic wounds such as skin tears and surgical wounds. Plus it can be used on dry and or necrotic wounds in combination with gels.
See how Mepilex Border Comfort works
Product details
| | | | | |
| --- | --- | --- | --- | --- |
| Ref. No. | Description | Pieces Per Inner | NPC Code | PIP Code |
| 596211 | Mepilex Border Comfort 7.5 x 7.5 cm | 10 | ELA1103 | 407-4415 |
| 596311 | Mepilex Border Comfort 10 x 10 cm | 10 | ELA1104 | 407-4423 |
| 596011 | Mepilex Border Comfort 12.5 x 12.5 cm | 10 | ELA1102 | 407-4431 |
| 596411 | Mepilex Border Comfort 15 x 15 cm | 10 | ELA1105 | 407-4449 |
| 596611 | Mepilex Border Comfort 15 x 20 cm | 10 | ELA1106 | 407-4456 |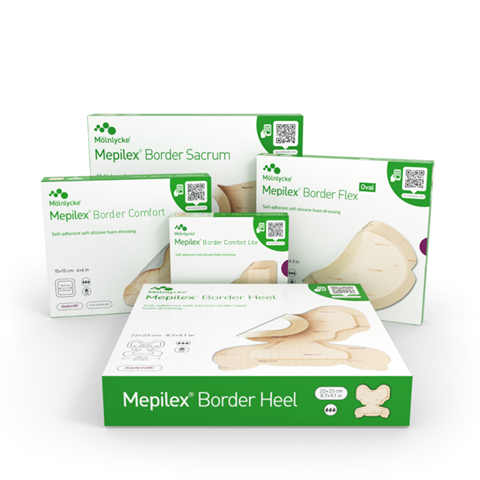 Mepilex® Border and Mepilex Border Lite are being discontinued and replaced with Mepilex® Border Comfort Range. Take a look at the latest innovation in the Mepilex® offering today by clicking 'Upgrade Now'.