Wound irrigation solution
Granudacyn
Irrigation solution and gel for cleaning, moistening and rinsing.
-/-
Granudacyn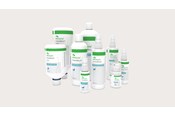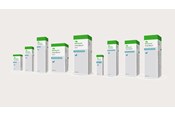 Granudacyn® is an irrigation solution for cleansing and moisturising acute, chronic and contaminated wounds, as well as for first and second degree burns. Hypochlorous acid (HOCl) ensures safe preservation and makes Granudacyn a reliable wound irrigation solution.
Granudacyn can be used for the cleaning, moistening and rinsing of the following wound types:
All chronic wounds of any depth, such as diabetic foot ulcer, pressure ulcer, venous leg ulcer, etc.
All acute wounds, cuts, bite wounds, lacerations, abrasions
Surgery wounds (intraoperative and postoperative)
Wounds on cartilage, tendons, ligaments and/or bones
Burns up to degree two
Radiation ulcer
Fistulas and abscesses
Cavities such as ear, nose, throat
Critically colonised wounds
Soft tissue injuries
Granudacyn can also be used for moistening the wound dressing and for loosening encrusted wound dressings.
Granudacyn is suitable for multi-patient use of up to 90 days (gel) and 60 days (solution) after opening. To ensure safe use after opening, Granudacyn contains a preservative that naturally occurs in the body: hypochlorous acid . Hypochlorous acid also prevents the proliferation of Gram+ and Gram- bacteria including MRSA, ORSA, VRSA, VRE, viruses, fungi and spores.
Cleans the wound mechanically
Free of germs and pH neutral
Not cytotoxic or an irritant; free from heavy metals
Hypotonic to promote osmolysis and cell rupture
Reduces wound malodour
hidden1
hidden2
Further product information
When to use Granulox
Do not use Granulox in pregnant patients
Granulox should not be used simultaneously with locally applied antibiotics, as interactions have not yet been studied sufficiently
Some antimicrobial wound rinses are known to impair the efficiency of Granulox. Therefore, after application of a disinfectant, the area may need to be subsequently flushed thoroughly with a physiological solution
Thorough flushing with a physiological solution is necessary after proteolytic (enzymatic) debridement
How to use Granulox
After sufficient debridement and cleaning of the wound, spray Granulox onto the wound. Remove the protective cap from the spray container. Hold the nozzle about 5 to 10 cm from the wound and spray until the wound is completely coated with a thin film. 1 to 2 seconds are normally sufficient to cover a wound area of 2 x 3 cm. Apply again every time the dressing is changed, but at least every three days. After use, cover the wound with a breathable wound dressing.
After use, replace the protective cap on the spray container. It is not necessary to clean the nozzle as the product has been preserved. One pack of Granulox is sufficient for up to 30 applications depending on the size of the wound. After opening, Granulox can be used until the expiry date.
Spraying instructions
-/-
hidden1
hidden2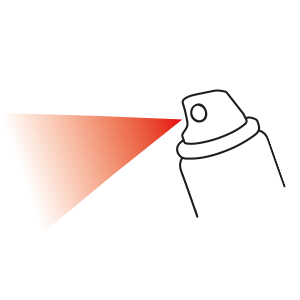 Sprays evenly in all directions from every position, even in hard to reach areas.
hidden1
hidden2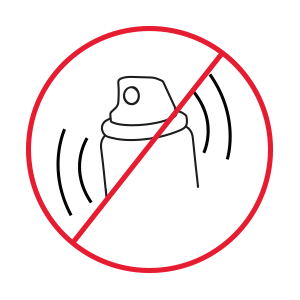 Granulox remains at a constant consistency, so there is no need to shake. And unlike conventional spray cans, shaking gives no indication of amount of Granulox still remaining. On average, a can lats for 30 treatments. Empties 99% of contents
hidden1
hidden2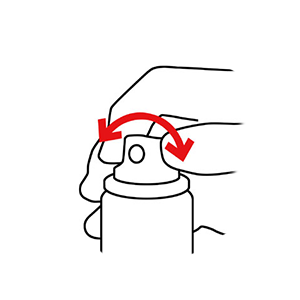 Nonstop spraying may occur on first time use, due to the very tight construction of the nozzle. If so, simply jiggle the nozzle gently back and forth and guide it slightly upwards. Spraying will then stop. When using Granulox for the first time, you may choose to spray into a tissue or over a sink
hidden1
hidden2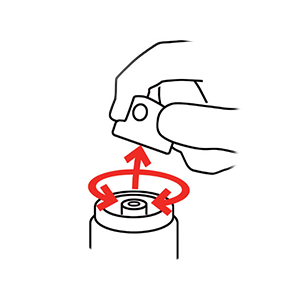 Due to the very fine valve, you may find that the nozzle can clog. If this happens, then it is time to switch to a new nozzle. New nozzles are included in every box. a. Simply remove the old nozzle by tugging smartly and twisting simultaneously. b. To insert a new nozzle, push down while twisting.
Product details
| | | | | |
| --- | --- | --- | --- | --- |
| Ref. no | Description | NHSSC Code | PIP Code | NDC Code |
| 360107 | Granudacyn Gel 50g | DWA003 | - | - |
| 360106 | Granudacyn Gel 250g | DWA004 | 415-9414 | - |
| 360108 | Granudaycn Gel 100g | DWA000 | 415-8457 | - |
| 360100 | Granudacyn Solution 250ml | DWA001 | - | - |
| 360101 | Granudaycn Solution 500ml | DWA006 | - | - |
| 360102 | Granudacyn Solution 1000ml | DWA002 | - | - |
| 360103 | Granudaycn NPWT 500ml | DWA007 | - | - |
| 360104 | Granudacyn NPWT 1000ml | DWA005 | - | - |