Surgical gowns
BARRIER surgical gown Classic
Breathable and comfortable, suitable for most procedures
-/-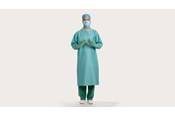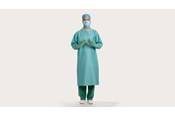 BARRIER® surgical gowns Classic are available in Standard and High Performance gowns and suitable for most procedures. BARRIER surgical gowns Classic are made from a breathable, textile-like, spunlace material that is comfortable to wear.
They are ergonomic too. Shoulder pleats allow freedom of movement for the upper body and the ergonomic sleeves allow comfort and freedom of movement. The gown cuff is compatible with Biogel® gloves, preventing the gloves from sliding off.
Choose our High Performance gown with impermeable front and sleeves for added protection against strike-through.
Ergonomic fit, enables freedom of movement
Breathable, textile-like spunlace material is comfortable to wear
Specially treated to repel low-tension surface fluids
Available in Standard or – for added protection against strike-through – High Performance
Our gown can be included in Mölnlycke® Procedure trays to support OR Efficiency
hidden1
hidden2
Further product information
How to use BARRIER

®

surgical gowns
Watch our donning guide.
Product details
| | | | |
| --- | --- | --- | --- |
| Ref. No. | Description | Case Qty | NPC Code |
| | Standard Performance | | |
| 650101 | Classic SP Gown, M | 40 | BWK468 |
| 650102 | Classic SP Gown, L | 40 | BWK265 |
| 650104 | Classic SP Gown , L-L | 40 | BWK266 |
| 650108 | Classic SP Gown, XL | 36 | BWK478 |
| 650110 | Classic SP Gown, XL | 36 | BWK268 |
| 650114 | Classic SP Gown, XXL-L | 36 | BWK278 |
| 650113 | Classic SP Gown, XXL-XL | 32 | BWK585 |
| | | | |
| | High Performance | | |
| 660101 | Classic HP Gown, L | 36 | BWK269 |
| 660102 | Classic HP Gown, L-L | 36 | BWK270 |
| 660105 | Classic HP Gown, XL | 32 | BWK471 |
| 660106 | Classic HP Gown, XL-L | 32 | BWK272 |
| 660111 | Classic HP Gown, XXL-L | 32 | BWK274 |
| 660110 | Classic HP Gown, XXL-XL | 32 | BWK273 |