Surgical gowns
BARRIER surgical gown Fluid Protection Plus
Impermeable to fluids over the entire surface area
-/-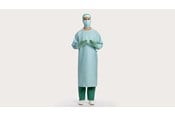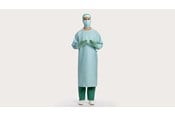 BARRIER® Fluid Protection Plus is our most protective surgical gown with a surface that's impermeable to fluids all over. The gown is very low linting. Breathable material combats perspiration, while polyethylene film prevents fluid penetration.
Ergonomic sleeves allow comfort and freedom of movement. The gown cuff is compatible with Biogel® gloves, preventing gloves from sliding off.
Impermeable to fluids all over except seams in less critical area
Air permeable
High performance gowns
Ergonomic fit, enables freedom of movement
Our gowns can be included in Mölnlycke® Procedure trays to support OR Efficiency


hidden1
hidden2
Further product information
How to use BARRIER Surgical gowns
Watch our donning guide.
Product details
| | | | |
| --- | --- | --- | --- |
| Ref. No. | Description | Case Qty | NPC Code |
| 670102 | Fluid Protection Plus Gown, L | 64 | BWK279 |
| 670103 | Fluid Protection Plus Gown, L-L | 60 | BWK433 |
| 670104 | Fluid Protection Plus Gown, XL | 56 | BWK472 |
| 670105 | Fluid Protection Plus Gown, XL-L | 56 | BWK280 |
| 670107 | Fluid Protection Plus Gown, XXL-L | 52 | BWK437 |
| 670106 | Fluid Protection Plus Gown, XXL-XL | 56 | BWK436 |