All-in-one foam sacrum dressing
Mepilex Border Sacrum
Five-layer foam dressing for pressure ulcer prevention and management of sacral wounds
-/-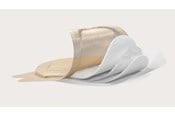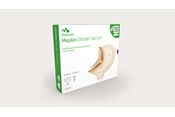 Mepilex® Border Sacrum all-in-one dressing is the only five-layer foam sacral dressing with proprietary Deep Defense® Technology – proven to prevent pressure ulcers when used in conjunction with other standard prevention protocols .
The dressing can also be used for managing moderate- to high- exuding wounds of the sacral area. It absorbs and retains exudate and it balances moisture properly avoiding the risk of maceration .
This recently-launched enhanced design includes new handling tabs and thicker borders allowing easier application and patient checking. When used for pressure ulcer prevention, the sacral shape has been refined so you can achieve good coverage of the high-risk sacral area – and it features an improved gluteal seal for maximum protection .
The enhanced design still includes Safetac® – the original less-pain contact layer with silicone adhesion. So the dressing is comfortable and conforms to the patients anatomy – you can remove it easily without damaging the skin . That means less pain for your patients .
Proven to prevent pressure ulcers – by up to 88% – when used with other standard prevention protocols
Proprietary Deep Defense Technology protects against the extrinsic forces - pressure, shear and friction; and manages micro-climate, the key factors responsible for pressure ulcers

Mepilex® Border with Safetac technology minimises pain during dressing changes

Good fluid handling capacity and retention

Reduces risk of maceration
Now available on the New NHS National Services Scotland framework. Order now through NDC and GP10 prescription.