Further product information
When to use Tubifast
Tubifast with 2-Way Stretch Technology can be used as a dressing retention and skin covering for any part of the body. It can also be used for patch wrapping and as an under-cast stockinette. Because of its tubular construction, Tubifast with 2-Way Stretch Technology is particularly suitable for holding dressings in place on difficult areas such as stumps of amputee patients.
-/-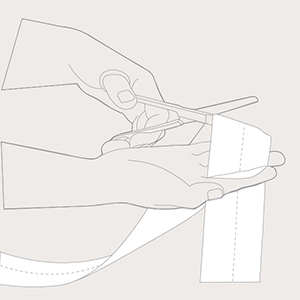 Choose the correct width bandage, using the quick reference colour coding, and cut to length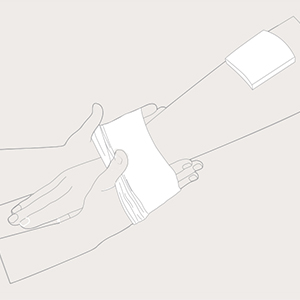 Stretch Tubifast 2-Way Stretch over the affected area.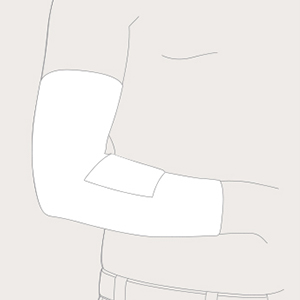 Position Tubifast 2-Way Stretch to cover the dressing. Illustrated, step-by-step instructions are available for more advanced applications.
Product details
| | | | | |
| --- | --- | --- | --- | --- |
| Ref. No. | Description (width x length) | Limb Circum. | NPC Code | PIP Code |
| | Red Line - Small limbs | | | |
| 2480 | 3.5 cm x 1 m | 9-18 cm | - | 005-0088 |
| 2434 | 3.5 cm x 10 m | 9-18 cm | EGP115 | 026-8698 |
| | | | | |
| | Green Line - Small & medium limbs | | | |
| 2481 | 5 cm x 1 m | 14-24 cm | - | 005-0039 |
| 2485 | 5 cm x 3 m | 14-24 cm | - | 255-1885 |
| 3555 | 5 cm x 5 m | 14-24 cm | - | 255-5803 |
| 2436 | 5 cm x 10 m | 14-24 cm | EGP117 | 026-8680 |
| | | | | |
| | Blue Line - Large limbs | | | |
| 2482 | 7.5 cm x 1 m | 24-40 cm | EGP016 | 004-9924 |
| 2486 | 7.5 cm x 3 m | 24-40 cm | - | 255-1877 |
| 3556 | 7.5 cm x 5 m | 24-40 cm | ECJ008 | 255-5811 |
| 2438 | 7.5 cm x 10 m | 24-40 cm | EGP119 | 026-6924 |
| | | | | |
| | Yellow Line - Extra-large limbs, heads, children's trunks | | | |
| 2483 | 10.75 cm x 1 m | 35-64 cm | - | 023-6539 |
| 2487 | 10.75 cm x 3 m | 35-64 cm | - | 255-1869 |
| 3557 | 10.75 cm x 5 m | 35-64 cm | ECL014 | 255-5829 |
| 2440 | 10.75 cm x 10 m | 35-64 cm | EGP121 | 000-6221 |
| | | | | |
| | Purple Line - Adult trunks | | | |
| 2479 | 20 cm x 1 m | 64-130 cm | - | 324-1452 |
| 3558 | 20 cm x 5 m | 64-130 cm | - | 324-1486 |
| 2444 | 20 cm x 10 m | 64-130 cm | EGP017 | - |