Dressing for highly exuding wounds
Mextra Superabsorbent
High absorption and retention capacity for use on moderately to heavily exuding wounds .
-/-
Mextra Superabsorbent wound dressing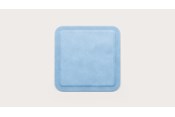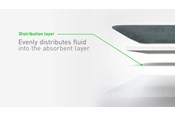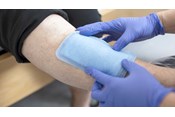 Mextra® Superabsorbent has a high fluid absorption and retention capacity - . Mextra Superabsorbent can be used on moderately exuding wounds, e.g., chronic wounds such as leg ulcers, venous leg ulcers under compression bandage, and chronic wounds such as pressure ulcers .
Mextra Superabsorbent reduces the risk of leakage and maceration - . The wound pad absorbs the wound exudate containing bacteria and reduces the amount of bacteria re-entering the wound bed - even under compression .
Mextra Superabsorbent is conformable and easy to use . It is also comfortable to use . Mextra Superabsorbent maintains its structure and integrity .
High fluid absorption and retention capacity -

The dressing is

conformable and comfortable to use

Reduces the risk of maceration (protects periwound skin)

-
Has protease modulating activity
Sloughy wound
Red granulated wound
Medium to high exudation
High exudation
Foot ulcer
Leg ulcer
Traumatic wound
Pressure ulcer
Radiotherapy induced skin reaction
Absorbent dressings
Further product information
When to use Mextra Superabsorbent
Mextra Superabsorbent design is suitable for managing highly exuding wounds, such as venous leg ulcers, diabetic foot ulcers, and in some cases pressure ulcers. The polyacrylate superabsorbent particles have a protease modulating activity and provide an environment that's conducive to healing. The fluid-repellent backing material protects against fluid strike-through .
How to use Mextra Superabsorbent
Watch the different ways to apply Mextra Superabsorbent.
Product details
| | | | | |
| --- | --- | --- | --- | --- |
| Ref. No. | Description | Pieces Per Inner | NPC Code | PIP Code |
| 610000 | Mextra Superabsorbent 12.5 x 12.5 cm | 10 | - | 405-2650 |
| 610100 | Mextra Superabsorbent 12.5 x 17.5 cm | 10 | - | 405-3583 |
| 610200 | Mextra Superabsorbent 12.5 x 22.5 cm | 10 | - | 405-5257 |
| 610300 | Mextra Superabsorbent 17.5 x 22.5 cm | 10 | EJE174 | 405-5281 |
| 610400 | Mextra Superabsorbent 22.5 x 27.5 cm | 10 | EJE178 | 405-5273 |
| 610500 | Mextra Superabsorbent 22.5 x 32.5 cm | 10 | - | 405-5240 |
| 610600 | Mextra Superabsorbent 22.5 x 42.5 cm | 10 | EJE179 | 405-5264 |
| 610700 | Mextra Superabsorbent 10 x 10 cm | 10 | EJE169 | - |
| 610710 | Mextra Superabsorbent 10 x 15 cm | 10 | EJE170 | - |
| 610720 | Mextra Superabsorbent 10 x 20 cm | 10 | EJE172 | - |
| 610750 | Mextra Superabsorbent 20 x 30 cm | 10 | EJE176 | - |