Further product information
When to use Tubigrip
Tubigrip provides tissue support in the treatment of strains and sprains, soft tissue injuries, general oedema, post-burn scarring and ribcage injuries and is also used for pressure dressings and arm fixation.
How to use Tubigrip
-/-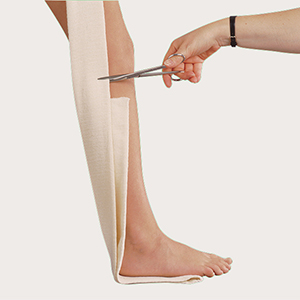 Cut Tubigrip to twice the length required for limb, allowing an extra 2–3cm for overlap.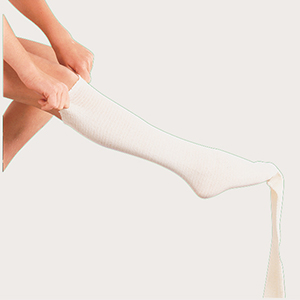 Pull Tubigrip onto limb like a stocking.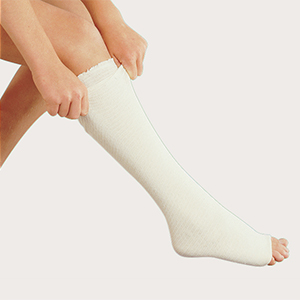 Double Tubigrip back over limb. Ensure upper edge is taken 2–3cm higher up the limb than the first.
Product details
| | | | | |
| --- | --- | --- | --- | --- |
| Ref. No. | Description | Pieces Per Case | NPC Code | PIP Code |
| | Natural Shade | | | |
| 1510 | Small hands and arms 0.5 m | 84 | - | 029-3407 |
| 1513 | Medium arms, small ankles 0.5 m | 84 | - | 023-8154 |
| 1511 | Large arms, medium ankles, small knees 0.5 m | 84 | - | 029-3415 |
| 1514 | Large ankles, medium knees, small thighs 0.5 m | 84 | - | 023-8246 |
| 1512 | Large knees, medium thighs 0.5 m | 84 | - | 029-3423 |
| 1515 | Large thighs 0.5 m | 84 | - | 023-8253 |
| 1520 | Small hands and arms 1 m | 60 | - | 029-3456 |
| 1521 | Medium arms, small ankles 1 m | 60 | - | 029-3464 |
| 1522 | Large arms, medium ankles, small knees 1 m | 60 | - | 029-3472 |
| 1528 | Large ankles, medium knees, small thighs 1 m | 60 | - | 048-9971 |
| 1523 | Large knees, medium thighs 1 m | 60 | - | 029-3480 |
| 1524 | Large thighs 1 m | 60 | - | 029-3498 |
| 1435 | Infant feet and arms 10 m | 44 | EGA011 | 029-3258 |
| 1436 | Small hands and arms 10 m | 32 | EGA013 | 029-3266 |
| 1443 | Medium arms, small ankles 10 m | 28 | EGA015 | 029-3282 |
| 1437 | Large arms, medium ankles, small knees 10 m | 28 | EGA017 | 029-3290 |
| 1434 | Large ankles, medium knees, small thighs 10 m | 24 | EGA019 | 023-1969 |
| 1438 | Large knees, medium thighs 10 m | 20 | EGA021 | 029-3316 |
| 1439 | Large thighs 10 m | 12 | EGA023 | 029-3324 |
| 1441 | Medium trunks 10 m | 6 | EGA027 | 029-3340 |
| 1442 | Large trunks 10 m | 4 | EGA029 | 029-3357 |
| 1444 | X-Large trunks 10 m | 4 | - | 026-6569 |
| | | | | |
| | Beige Shade | | | |
| 1545 | Medium arms, small ankles 1 m | 60 | - | 006-8833 |
| 1546 | Large arms, medium ankles, small knees 1 m | 60 | - | 006-8973 |
| 1547 | Large ankles, medium knees, small thighs 1 m | 60 | - | 006-9146 |
| 1548 | Large knees, medium thighs 1 m | 60 | - | 006-9153 |
| 1449 | Small hands and arms 10 m | 32 | - | 029-3365 |
| 1450 | Medium arms, small ankles 10 m | 28 | - | 029-3365 |
| 1451 | Large arms, medium ankles, small knees 10 m | 28 | - | 029-3381 |
| 1448 | Large ankles, medium knees, small thighs 10 m | 24 | - | 023-1977 |
| 1452 | Large knees, medium thighs 10 m | 20 | - | 029-3399 |
| 1453 | Large thighs 10 m | 12 | - | 023-8386 |
Products and solutions
Related products