Further product information
When to use BARRIER neurosurgery drapes
Anterior posterior cervical disc
Burr hole
Carpal tunnel release
Craniotomy
Laminectomy
Shunt
Spinal procedures
How to use BARRIER neurosurgery drapes
Draping instructions for BARRIER neuro drape: 888242, Mölnlycke Procedure Tray component 965524.
-/-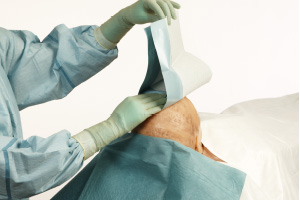 1 Drape a square with the adhesive towels. First the lower, then the upper side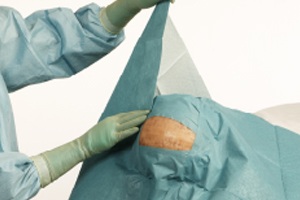 2 … and last the lateral drapes.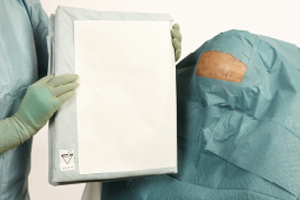 3 Position the drape with the pouch in the right direction (see pictogram).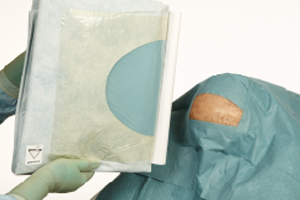 4 Remove the release paper.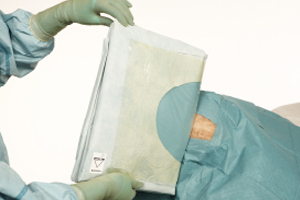 5 Place the drape in the middle of the operation area.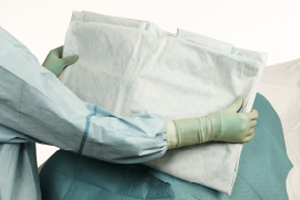 6 Unfold first to the lateral sides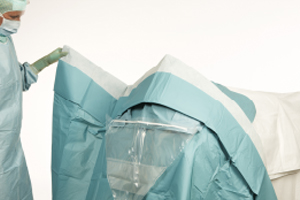 7 Unfold the drape downwards
Product details
| | | | |
| --- | --- | --- | --- |
| Ref.No. | Description | Pieces in Disp/Trp Box | NPC Code |
| 996106 | Mayo Stand Cover 79 x 145 cm | - | - |
| 26153-20 | 2 Cellulose Towel | - | - |
| 911500 | 1 OP-Tape 9 x 49 cm | - | - |
| 947064 | 4 Adhesive OP-Towel 50 x 50 cm | - | - |
| 965524 | 1 Craniotomy Drape 230 cm x 300 cm | - | - |
| 90190 | 1 Table Cover 150 cm x 190 cm | - | - |
| | | - | - |
| 888242 | Craniotomy Set | 5/10 | - |
| 26153-20 | 2 Cellulose Towel | - | - |
| 911500 | 1 OP-Tape 9 x 49 cm | - | - |
| 947064 | 4 Adhesive OP-Towel 50 x 50 cm | - | - |
| 965524 | 1 Craniotomy Drape 230 cm x 300 cm | - | - |
| 90190 | 1 Table Cover 150 cm x 190 cm | - | - |