Further product information
When to use BARRIER ophthalmic drapes
Cataracts
Major eye surgery
Squints
How to use BARRIER ophthalmic drapes
Draping instructions for BARRIER ophthalmic drapes: sterile sets 903163 and 903167, Mölnlycke Procedure Tray component 900056 and 900057.
-/-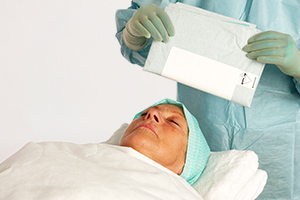 1 Position the drape with pouch on the eye to be operated (see pictogram).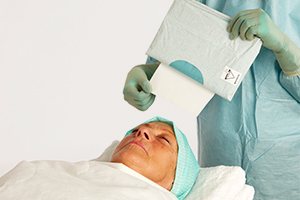 2 Remove the release paper.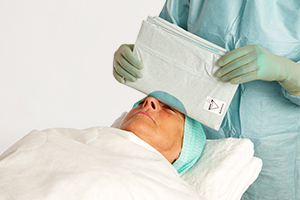 3 Position the drape in the middle of the eye.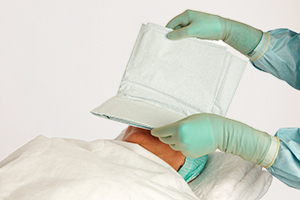 4 Unfold the drape up and down.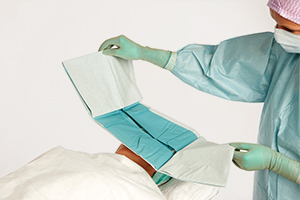 5 Unfold to the lateral sides.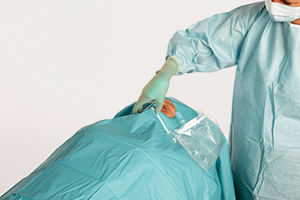 6 Unfold towards the head and feet. Pull up the nose bridge.
Product details
| | | | |
| --- | --- | --- | --- |
| Ref. No | Description | Pieces in Disp/Trp Box | NPC Number |
| 903167 | Ophthalmic Set | 16/32 | VJL087 |
| 26153-20 | 1 Cellulose Towel | - | - |
| 900057 | 1 Ophthalmic Drape W/Pouch 140 x 150 cm | - | - |
| 90150 | 1 Table Cover 150 x 150 cm | - | - |
| | | | |
| 84511461 | Ophthalmic Set | 10/20 | VJD875 |
| 900057 | 1 Ophthalmic Drape W/Pouch+Wick 146cm x 151cm | - | - |
| 90150 | 1 Table Cover 150 x 150 cm | - | - |
| | | | |
| 1213 | Sterile Ophthalmic Drape 151 x 300 cm, incise 10 x 10 cm, aperture 6.5 x 4 cm, wrapped | -/24 | VJD3707 |
| 9922 | Non Sterile Ophthalmic Drape 104 x 140 cm, incise 10 x 8 cm | -/100 | - |
| | | | |
| 80051411 | Sterile Ophthalmic Drape w/pouch + wick 151 x 146 cm, incise area 10 x 8 cm | -/20 | VJD3876 |
| 928008 | Non-Sterile Ophthalmic Drape w/pouch, incise area 9.5x8 cm | -/80 | - |
| 928007 | Non-Sterile Ophthalmic Drape + Wick 151 x 146 cm, incise 9.5 x 8 cm + eye wick 0.3 x 20 cm | -/48 | - |
| 928004 | Non-Sterile Ophthalmic Drape w/pouch+Wick 140 x 151 cm, incise 9 x 8 cm + eye wick 0.3 x 20 cm | -/48 | - |
| 80080282 | Non-Sterile Ophthalmic Drape w/pouch + wick 151x146cm, incise area 10x8cm | -/43 | - |
| | | | |
| 80005361 | Sterile Ophthalmic Drape w/pouches 151 x 146 cm, incise 12.5 x 10 cm | 14/28 | VJD3905 |
| 900031 | Non-Sterile Ophthalmic Drape w/pouches 150 x 180 cm, adh. ap. 5 x 7 cm | -/32 | - |
| 959540 | Non-Sterile Ophthalmic Drape w/pouches 150 x 300 cm, incise 8 x 10 cm | -/28 | - |
| 81008026 | Non-Sterile Ophthalmic Drape w/pouches 151 x 146cm, incise 12.5 x 10 cm | -/48 | - |
| | | | |
| 8005390 | Sterile Ophthalmic Drape w/pouches+Wick 128 x 146 cm, incise 12.5 x10 cm, ap. 6.5 x 4 cm + wick, wrapped | 15/30 | VJD4092 |
| 920214 | Non-Sterile Ophthalmic Drape w/pouches+Wick 183 x 280 cm, incise area 11 x 8 cm, + eye wick 0.3 x 20 cm | -/12 | - |
| | | | |
| 978244 | Non-Sterile Ophthalmic Drape w/pouches+Incise 150 x 165 cm, adh. ap. 8 cm, + incise film 15 x 20 cm | -/420 | - |
| | | | |
| 900030 | Non-Sterile Ophthalmic Drape w/ pouches 150 x 195 cm, incise area 10 x10 cm, aperture 6.5 x 4 cm | -/70 | - |
| 8059 | Ophthalmic Drape w/pouch 151 x 160 cm, incise 12.5 x 10 cm, ap. 6.5 x 2.5 cm | -/36 | - |
| 900056 | Ophthalmic Drape w/pouch 140 x 150 cm, incise 8 x 10 cm, ap. 3.5 x 6,5 cm | -/60 | - |
| 900057 | Ophthalmic Drape w/pouch 140 x 150 cm, incise 8 x 10 cm | -/60 | - |
| 8008058 | Ophthalmic Drape w/ pouch + Wick 140 x 151 cm, Incise area 9.5 x 8 cm, Aperture 5,5 x3 cm | -/40 | - |
| 928009 | Ophthalmic Drape w/pouch + wick 120 x 100 cm, incise area 10 x 10 cm | -/100 | - |
| | | | |