Wound care dressings
Mesorb
Highly absorbent dressing with exudate barrier
-/-
Mesorb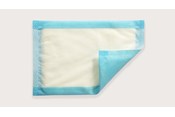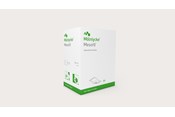 Mesorb® is a soft, highly absorbent dressing which has high retention capacity for good exudate management. The fluid-repellent backing prevents outer contamination of the wound and protects clothes and bed linen from exudate strike-through. As the backing covers the sides of the dressing, it also prevents side leakage.
High absorption and retention capacity for good exudate management

Fluid-repellent strikethrough barrier prevents leakage and outer contamination

Provides feeling of softness

Breathable
hidden1
hidden2
Further product information
When to use Mesorb
Mesorb is intended for use on moderate to highly exuding wounds. You can use it as a primary dressing directly on the wound. If very high absorbency is required, you can also use it as a secondary dressing alongside Melgisorb® Plus or Mepitel® and Mepitel® One.
How to apply Mesorb
-/-
hidden1
hidden2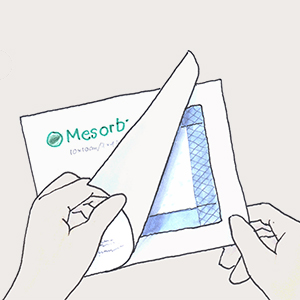 Open the package and remove the dressing.
hidden1
hidden2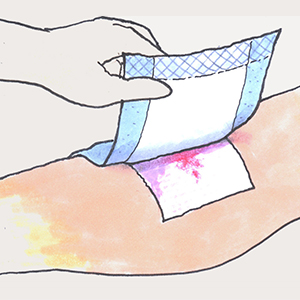 Apply Mesorb on the wound area or on the chosen primary dressing with at least 1 cm overlap on the surrounding skin.
hidden1
hidden2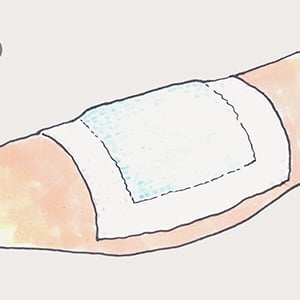 Fixate Mesorb with e.g. Mefix®, Mepore® Film, or Tubifast™.
Product details
| | | | | |
| --- | --- | --- | --- | --- |
| Ref. No. | Description | Pieces Per Inner | NPC Code | PIP Code |
| 677080 | Mesorb 10 x 10 cm | 10 | EJE044 | 255-3527 |
| 677280 | Mesorb 10 x 15 cm | 10 | EJE056 | 255-3535 |
| 677480 | Mesorb 10 x 20 cm | 10 | EJE058 | 255-3543 |
| 677680 | Mesorb 15 x 20 cm | 10 | EJE059 | 255-3550 |
| 677780 | Mesorb 20 x 25 cm | 10 | EJE060 | 255-3568 |
| 677880 | Mesorb 20 x 30 cm | 10 | EJE061 | 255-3576 |