Clean Air Suits
BARRIER Clean Air Suit
Offers efficient protection and can help maintain ultra-clean air in the OR
-/-
BARRIER Clean Air Suit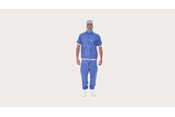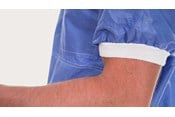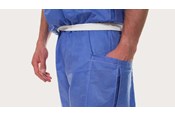 BARRIER® Clean Air Suits contributes to maintaining the ultra clean air by reducing air contamination by personnel- one of the main sources of airborne micro-organisms .
Made from a material with a high resistance to bacterial penetration, our Clean Air Suit offers more efficient protection than reusable scrubs made of cotton/polyester .
Even in normal air conditions with conventional ventilation, our Clean Air Suit significantly reduces both CFU (>75% more reduction) and particle count (>90% more reduction) compared to reusable clean air suit systems .
Proven to maintain ultra clean air in the OR
Our BARRIER Clean Air Suit contributes to hospital infection control
BARRIER Clean Air Suits can replace laminar air flow combined with reusables

'When we have used the Clean Air Suit it was a big improvement. We have had zero CFU on many tests.'
Marit Glende Johnsen, Head of OR Department, Lovisenberg Hospital, Oslo, Norway
Further product information
Why use BARRIER

®

Clean Air Suit
Increasing patient safety – Watch why BARRIER Clean Air Suit is the best choice for you. It contributes to the creation of ultra clean air by reducing air contamination by personnel.
Always conscious of the Environment
A lifecycle assessment shows that BARRIER single-use scrub suits have a smaller environmental impact compared to a reusable scrub suit in terms of lower CO2 emissions and eutrophication .
.
Product details
| | | | | |
| --- | --- | --- | --- | --- |
| Ref. No. | Description | Size | Case Qty | NPC Code |
| 842000 | Shirt, cuffs in sleeves and waist | XS | 28 | - |
| 842100 | Shirt, cuffs in sleeves and waist | S | 26 | - |
| 842200 | Shirt, cuffs in sleeves and waist | M | 22 | - |
| 842300 | Shirt, cuffs in sleeves and waist | L | 20 | - |
| 842400 | Shirt, cuffs in sleeves and waist | XL | 18 | - |
| 842500 | Shirt, cuffs in sleeves and waist | XXL | 18 | - |
| 842600 | Shirt, cuffs in sleeves and waist | XXXL | 16 | - |
| | | | | |
| 843000 | Drawstring trousers, cuffs in legs | XS | 28 | - |
| 843100 | Drawstring trousers, cuffs in legs | S | 26 | - |
| 843200 | Drawstring trousers, cuffs in legs | M | 22 | - |
| 843300 | Drawstring trousers, cuffs in legs | L | 20 | - |
| 843400 | Drawstring trousers, cuffs in legs | XL | 18 | - |
| 843500 | Drawstring trousers, cuffs in legs | XXL | 18 | - |
| 843600 | Drawstring trousers, cuffs in legs | XXXL | 16 | - |
Products and solutions
Related products