Speciality drapes
BARRIER orthopaedic drapes
Designed to provide a combination of high absorbency, strength and drapability
-/-
BARRIER Orthopaedic drapes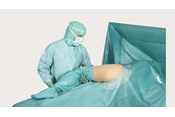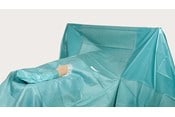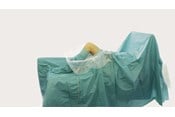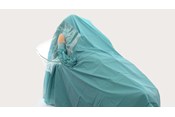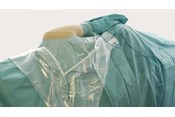 BARRIER® specialty drapes for orthopaedic surgery support patient safety with efficient infection control.
The effective absorption of our Drisite® Plus fluid handling solution combined with strong impermeable material helps to maintaining a dry working area, minimise risk of microbial transfer, strike-through and unwanted liquids on the OR floor. Drisite Plus has three fluid handling zones: a dry barrier, which is the patched area; a strong barrier, made of a tough, drapeable laminate that moves excess fluid to the third absorbent barrier. Also, integrated adhesive edges secure the fit and minimize the risk of micro-organism being transferred to the wound site.

Our BARRIER orthopaedic drapes are conformable and easy to apply – saving time and improving efficiency.
There's a wide range of BARRIER orthopaedic drapes specially designed for different procedures – from drapes for hip and knee replacements to drapes for hand and foot surgery.
Procedure-specific drapes with all-in-one designs - fewer parts and fewer steps reduce the risk of contamination

All-in-one drapes, saving time on draping against universal draping techniques
High absorbency and strike-through protection for patient safety
Our drapes can be included in Mölnlycke® Procedure Trays for operating room efficiency.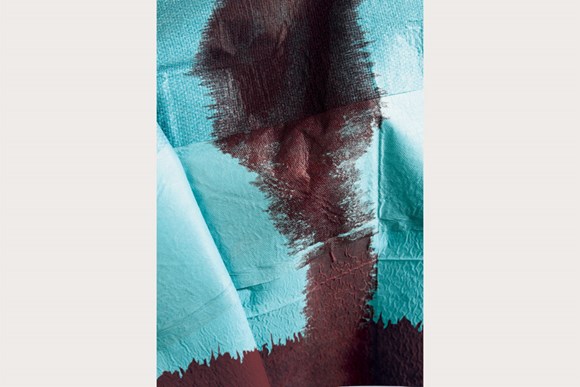 Drisite Plus system
Zone 1 – Reinforced dry barrier: Highly absorbent and resistant material in the critical zone to control and move liquids away from the wound.
Zone 2 – Strong barrier: Highly drapeable strong barrier with moderately absorbent material and comfort layer on the patient side. Directs any excess fluid towards Zone 3, the edge material.
Zone 3 – Effective absorbent barrier: Absorbent edge material that reduces risk of fluids spilling onto feet or operating theatre floor and is more rigidly constructed to allow a safe and sterile draping procedure.
Further product information
When to use BARRIER orthopaedic drapes
BARRIER orthopaedic drapes can be used for a range of procedures including:
Shoulder arthroscopy
Hip replacement
Knee arthroscopy
Knee replacement
Bilateral knees
Hands
Foot
Bilateral feet
Spinal
How to use BARRIER orthopaedic drapes
Watch how to use BARRIER hip surgery drape: sterile sets 60608 and 60609, Mölnlycke Procedure Tray components 70503, 70504 and 76410.
Watch how to use BARRIER knee arthroscopy set: sterile single drape 60104, Mölnlycke Procedure Tray component 70104.
Watch how to use BARRIER beach chair shoulder set 60003, single packed sterile drapes 60004 and 2750, Mölnlycke Procedure Tray component 70004 and 9475.
Watch how to use BARRIER shoulder drape: sterile set 60002, Mölnlycke Procedure Tray components 70005, 70006 and 70007.
Product details
| | | | |
| --- | --- | --- | --- |
| Ref. No. | Description | Pieces in Disp/Trp Boc | NPC Code |
| 60300 | Extremity Set, Bilateral Foot | 7/14 | VJD2114 |
| 60004 | Beach Chair Shoulder Drape 400 x 240 cm, ap. 10 x10 cm elastic, wrapped | 6/12 | VJD2110 |
| | | | |
| 26153-20 | 4 Cellulose Towel | - | - |
| 70311 | Bilaretal Foot Drape 200x300cm, ap.3,5cm elastic (2) | - | - |
| 911500 | OP-Tape 9 x 49cm | - | - |
| 95190 | 1 Reinforced Table Cover 150 x 190cm | - | - |
| | | | |
| 60301 | Extremity Set, Bilateral Leg | 7/14 | VJH484 |
| 26153-20 | 4 Cellulose Towel | - | - |
| 70313 | Bilaretal Leg Drape 200 x 300 cm, ap.7 cm elastic (2) | - | - |
| 911500 | OP-Tape 9 x 49 cm | - | - |
| 95190 | 1 Reinforced Table Cover 150 x 190 cm | - | - |
| | | | |
| 60202 | Extremity Set | 7/14 | VJD2105 |
| 70213 | 1 Extremity Drape 230 x 315 cm, ap.7 cm elastic (2) | - | - |
| 911500 | 1 OP-Tape 9 x 49cm | - | - |
| 95190 | 1 Reinforced Table Cover 150 x 190cm | - | - |
| | | | |
| 60203 | Extremity Set | 7/14 | VJD3872 |
| 90190 | 1 Table Cover 150 x 190 cm abs. 75 x 190 cm | - | - |
| 70211 | 1 Extremity Drape 200x300 cm, ap. 7 cm elastic | - | - |
| 95190 | 1 Reinforced Table Cover 150 x 190 cm | - | - |
| | | | |
| 60204 | Extremity Set | 6/12 | VJD2623 |
| 90190 | 1 Table Cover 150 x 190 cm abs. 75 x 190 cm | - | - |
| 70210 | 1 Extremity Drape 250 x 315 cm, ap. 7 cm elastic | - | - |
| 95190 | 1 Reinforced Table Cover 150 x 190 cm | - | - |
| 911500 | 1 OP-Tape 9 x 49cm | - | - |
| | | | |
| 60310 | Hand Drape150/370x280 cm, ap. 3,5 cm elastic | 7/14 | VJD2115 |
| | | | |
| 60305 | Hand Set | 7/14 | VJD3692 |
| 70310 | 1 Hand Drape 150/370x280 cm, ap. 3,5 cm elastic | - | - |
| 90190 | 1 Table Cover 150 x 190 cm, abs. 75 x 190 cm | - | - |
| | | | |
| 60306 | Hand Set | 6/12 | - |
| 70310 | 1 Hand Drape 150/370x280 cm, ap. 3,5 cm elastic | - | - |
| 90190 | 1 Table Cover 150 x 190 cm, abs. 75 x 190 cm | - | - |
| 996106 | 1 Mayo Stand Cover 79 x 145 cm | - | - |
| | | | |
| 60307 | Hand Set | 5/10 | VJD3880 |
| 90100 | 1 Table Cover 100 x 150 cm, abs. 75 x 150 cm | - | - |
| 70310 | 1 Hand Drape 150/370 x 280 cm, ap. 3,5 cm elastic | - | - |
| 90190 | 1 Table Cover 150 x 190 cm, abs. 75 x 190 cm | - | - |
| 24305-00 | 1 Wrap | - | - |
| | | | |
| 60606 | Hip Set | 4/8 | VJD2091 |
| 996109 | 1 Reinforced Mayo Stand Cover 79 x 145 cm, abs. 65 x 85 cm | - | - |
| 26153-20 | 4 Cellulose Towel 18 x 25 cm | - | - |
| 9475 | 1 Split Sheet (plastic) 150 x 193 cm | - | - |
| 946112 | 1 Stockinet L | - | - |
| 911500 | 2 OP-Tape 9 x 49 cm | - | - |
| 70503 | 1 Split Sheet 200 x 260 cm | - | - |
| 76409 | 1 Adhesive OP-Sheet 240 x 175 cm | - | - |
| 95190 | 1 Reinforced Table Cover 150 x 190 cm | - | - |
| | | | |
| 60607 | Hip Set | 5/10 | VJH481 |
| 90190 | 1 Table Cover 150 x 190 cm, abs. 75 x 190 cm | - | - |
| 26153-20 | 4 Cellulose Towel 18 x 25 cm | - | - |
| 946112 | 2 Stockinet L | - | - |
| 911500 | 1 OP-Tape 9 x 49 cm | - | - |
| 70503 | 1 Split Sheet 200 x 260 cm | - | - |
| 76409 | 1 Adhesive OP-Sheet 240 x 175 cm | - | - |
| 95190 | 1 Reinforced Table Cover 150 x 190 cm | - | - |
| | | | |
| 60608 | Hip Set | 4/8 | VJD2097 |
| 996109 | 1 Reinforced Mayo Stand Cover 79 x 145 cm, abs. 65 x 85 cm | - | - |
| 26153-20 | 4 Cellulose Towel 18 x 25 cm | - | - |
| 968005 | 1 OP-Towel 2-ply 75 x 90 cm | - | - |
| 90190 | 1 Table Cover 150 x 190 cm, abs. 75 x 190 cm | - | - |
| 946112 | 1 Stockinet L | - | - |
| 911500 | 2 OP-Tape 9 x 49 cm | - | - |
| 70504 | 1 Split Sheet 200 x 260 cm, adh. split 20 x 102cm | - | - |
| 76410 | 1 Adhesive OP-sheet 300 x 175 cm, patched | - | - |
| 95190 | 1 Reinforced Table Cover 150 x 190 cm | - | - |
| | | | |
| 60609 | Hip Set | 4/8 | VJD2095 |
| 996109 | 1 Reinforced Mayo Stand Cover 79 x 145 cm, abs. 65 x 85 cm | - | - |
| 26153-20 | 4 Cellulose Towel 18 x 25 cm | - | - |
| 968005 | 1 OP-Towel 2-ply 75 x 90 cm | - | - |
| 90190 | 1 Table Cover 150 x 190 cm, abs. 75 x 190 cm | - | - |
| 946112 | 1 Stockinet L | - | - |
| 911500 | 2 OP-Tape 9 x 49 cm | - | - |
| 70503 | 1 Split Sheet 200 x 260 cm, adh. split 7 x 102cm patched | - | - |
| 76410 | 1 Adhesive OP-sheet 300 x 175 cm, patched | - | - |
| 95190 | 1 Reinforced Table Cover 150 x 190 cm | - | - |
| | | | |
| 60610 | Hip Set | -/4 | - |
| 26153-20 | 4 Cellulose Towel 18 x 25 cm | - | - |
| 90190 | 1 Table Cover 150 x 190 cm, abs. 75 x 190 cm | - | - |
| 9475 | 1 Split Sheet (plastic) 152 x 193 cm, adh. split 15 x 61 cm | - | - |
| 911500 | 2 OP-Tape 9 x 49 cm | - | - |
| 70504 | 1 Split Sheet 200 x 260 cm, adh. split 20 x 102 cm patched | - | - |
| 76410 | 1 Adhesive OP-sheet 300 x 175 cm, patched | - | - |
| 95190 | 1 Reinforced Table Cover 150 x 190 cm | - | - |
| | | | |
| 60613 | Hip Set | 5/10 | VJH479 |
| 26153-20 | 4 Cellulose Towel 18 x 25 cm | - | - |
| 90190 | 1 Table Cover 150 x 190 cm, abs. 75 x 190 cm | - | - |
| 911500 | 2 OP-Tape 9 x 49 cm | - | - |
| 70504 | 1 Split Sheet 200 x 260 cm, adh. split 20 x 102 cm patched | - | - |
| 76410 | 1 Adhesive OP-sheet 300 x 175 cm, patched | - | - |
| 95190 | 1 Reinforced Table Cover 150 x 190 cm | - | - |
| | | | |
| 60602 | Hip Set W/Dislocation Bags | 3/6 | VJD2094 |
| 996109 | 1 Reinforced Mayo Stand Cover 79 x 145 cm, abs. 65 x 85 cm | - | - |
| 26153-20 | 4 Cellulose Towel 18 x 25 cm | - | - |
| 90190 | 1 Table Cover 150 x 190 cm, abs. 75 x 190 cm | - | - |
| 910598 | 2 Adhesive OP-Towel, 75 x 75cm | - | - |
| 911500 | 2 OP-Tape 9 x 49 cm | - | - |
| 946112 | 1 Stockinet, 32 x 120 cm | - | - |
| 70601 | 1 Hip drape w/dislocation bags 230/300x 330 cm, ap. 18 x 22 cm elastic | - | - |
| 95190 | 1 Reinforced Table Cover 150 x 190 cm | - | - |
| | | | |
| 60619 | Orthopaedic Set | 3/6 | VJD2107 |
| 26153-20 | 4 Cellulose Towel 18 x 25 cm | - | - |
| 90190 | 1 Table Cover 150 x 190 cm, abs. 75 x 190 cm | - | - |
| 70503 | 1 Split Sheet 200 x 260 cm, adh. split 7 x 102 cm, patched | - | - |
| 76409 | 1 Adhesive OP-sheet 240 x 175 cm, patched | - | - |
| 95190 | 1 Reinforced Table Cover 150 x 190 cm | - | - |
| | | | |
| 80005471 | Spinal Set | 7/14 | VJD1660 |
| 967774 | 1 Adhesive OP-Sheet 175 x 150 cm | - | - |
| 80008030 | 1 Spinal Drape 320 x 240 cm, incise 30 x 60 cm; | - | - |
| 95190 | 1 Reinforced Table Cover 150 x 190 cm, abs. 75 x 190 cm | - | - |
| | | | |
| 70311 | Non- Sterile Bilaretal Foot Drape 200x300cm, ap.3,5cm elastic (2) | -/16 | - |
| 60104 | Sterile Knee Arthroscopy Drape 230 x 320 cm, ap. 7 and 5 cm elastic | 6/12 | - |
| | | | |
| 70104 | Non-Seterile Knee Arthroscopy Drape 230 x 320 cm, ap. 7 and 5 cm elastic | -/9 | - |
| | | | |
| 60101 | Knee Arthroscopy Set | 6/12 | VJD3415 |
| 70104 | Non-Seterile Knee Arthroscopy Drape 230 x 320 cm, ap. 7 and 5 cm elastic | -/9 | - |
| 90190 | 1 Table Cover 150 x 190 cm, abs. 75 x 190 cm | - | - |
| | | | |
| 60105 | Sterile Knee Arthroscopy Drape 260/330 x 320 cm, ap. 7 and 5 cm elastic, wrapped | 5/10 | VJD3253 |
| 70105 | Non-Sterile Knee Arthroscopy Drape 260/330 x 320 cm, ap. 7 and 5 cm elastic, wrapped | -/13 | - |
| | | | |
| 60601 | Sterile Hip drape w/dislocation bags 230/300 x 330 cm, ap. 18 x 22 cm elastic, wrapped | 4/8 | VJD2090 |
| 70601 | Hip drape w/dislocation bags 230/300 x 330 cm, ap. 18 x 22 cm elastic | -/7 | - |
| | | | |
| 60600 | Sterile Hip Drape 230/300x 330 cm, ap. 18 x 22 cm elastic | 6/12 | VJD2100 |
| 70600 | Non-Sterile Hip Drape 230/300 x 330 cm, ap. 18 x 22 cm elastic | -/12 | - |
| | | | |
| 80008030 | Spinal Drape 320 x 240 cm, incise 30 x 60 cm | -/32 | - |
| | | | |
| 826010 | Vertical Isolation Drape 330 x 240 cm, incise 86 x 25 cm | 7/14 | VJD3706 |
| 815300 | Vertical Isolation Drape 330 x 240 cm, incise 86 x 25 cm | -/24 | - |
| 826020 | Vertical Isolation Drape 330 x 240 cm, incise 40 x30 cm | 10/20 | - |
| 815301 | Vertical Isolation Drape 330 x 240 cm, incise 40 x 30 cm | -/24 | - |
| 80008032 | Vertical Isolation Drape 320 x 240 cm, incise 60 x 30 cm | -/24 | - |
| | | | |
| 70210 | Extremity Drape 250x315 cm, ap. 7 cm elastic | -/120 | - |
| 60211 | Extremity Drape 200x300 cm, ap. 7 cm elastic | 11/22 | EVH036 |
| 70211 | Extremity Drape 200 x 300 cm, ap. 7 cm elastic | -/144 | - |
| 60212 | Extremity Drape 230 x 315 cm, ap. 7 cm elastic, wrapped | 10/20 | VJD3881 |
| 60213 | Extremity Drape 230 x 315 cm, ap. 7 cm elastic | 10/20 | VJL261 |
| 70213 | Extremity Drape 230 x 315 cm, ap. 7 cm elastic | -/144 | - |
| 70213 | Extremity Drape 230 x 315 cm, ap. 7 cm elastic | -/144 | - |
| 60214 | Extremity Drape 200/300 x 320 cm, ap. 7 cm elastic | 7/14 | VJD2101 |
| 70214 | Extremity Drape 200/300x320 cm, ap. 7 cm elastic | -/14 | - |
| | | | |
| 70313 | Bilateral Leg Drape 200 x 300 cm, ap. 7 cm elastic (2) | -/16 | - |
| | | | |
| 70308 | Hand/Foot Drape 150 x 180 cm, ap. 3,5 cm elastic | -/240 | - |
| 60309 | Hand/Foot Drape 230 x 315 cm, ap. 3,5cm elastic | 11/22 | - |
| 70309 | Hand/Foot Drape 230 x 315 cm, ap. 3,5cm elastic | -/144 | - |
| | | | |
| 60310 | Hand Drape 150/370 x 280 cm, ap. 3,5 cm elastic | 7/14 | VJD2115 |
| 70310 | Hand Drape 150/370 x 280 cm, ap. 3,5 cm elastic | -/16 | - |
| 70312 | Hand Drape 150/280 x 270 cm, ap.3.5 cm elastic | -/28 | - |
| 70602 | Hip Split Sheet 200x260 cm, split 20x102 cm, patch 70x160 cm, w. pouch | - | - |