Soft-feel surgical underglove
Biogel Eclipse Indicator Underglove
Supple natural rubber latex surgical indicator underglove
-/-
Biogel Eclipse Indicator Underglove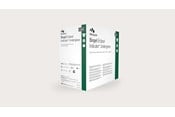 Biogel Eclipse® Indicator® Underglove is softer than standard Biogel surgical gloves made with natural rubber latex. This design creates a comfortable supple feel – with the inherent strength and elasticity of natural rubber latex – for the extra fingertip sensitivity and dexterity you need during surgery .
The Eclipse Indicator Underglove is designed for you to wear as the inner layer when double-gloving with a Biogel Eclipse overglove to create a Puncture Indication System – for a clear, fast and large puncture alert – to help protect you while you work. The smooth surface makes double-donning easy.
It is recommended for all general surgeries when latex allergy is not a concern.
Softer than regular Biogel natural rubber latex gloves, for supple feel and sensitivity
A study showed that you can detect up to 97% of punctures when double-gloving with Biogel puncture indication system
Reduced risk of a hole with an industry-leading AQL of 0.65, determined post packaging
A study showed that Biogel gloves have the lowest failure rate among major competitors
Every glove (100%) is air inflation tested for holes typically not detected in a visual inspection
Further product information
How to use Biogel Eclipse Indicator Underglove
Watch these helpful videos on the correct techniques for donning double-gloves. You can see the different donning methods for using open donning, or closed donning – either with cuffs extended over hands, or cuffs in the hands. You can also learn how to change a contaminated glove while scrubbed.
Assisted technique and how to change a contaminated glove
See detailed instructions for how to perform assisted donning with double-gloves, using the simple plunge method. This video also shows how to change a contaminated glove while you're still scrubbed.
Closed gloving techniques
Watch these easy-to-follow instructions for donning double-gloves with closed gloving techniques. This videos shows both methods, either with cuffs extended over the hands, or with cuffs in the hand.
Open gloving technique
See easy-to-follow instructions for donning double-gloves using an open gloving technique.
Product details
| | | | |
| --- | --- | --- | --- |
| Ref. No. | Description | Case Qty | NPC Code |
| 60955 | Biogel Eclipse Indicator Underglove 5.5 | 200 | FTE706 |
| 60960 | Biogel Eclipse Indicator Underglove 6 | 200 | FTE711 |
| 60965 | Biogel Eclipse Indicator Underglove 6.5 | 200 | FTE714 |
| 60970 | Biogel Eclipse Indicator Underglove 7 | 200 | FTE729 |
| 60975 | Biogel Eclipse Indicator Underglove 7.5 | 200 | FTE730 |
| 60980 | Biogel Eclipse Indicator Underglove 8 | 200 | FTE731 |
| 60985 | Biogel Eclipse Indicator Underglove 8.5 | 200 | FTE732 |
| 60990 | Biogel Eclipse Indicator Underglove 9 | 160 | FTE733 |